The 2022 Subaru Love Promise Customer and Community Commitment Award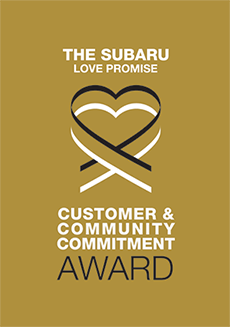 We've been nationally recognized for our dedication to our customers, our community, and the Subaru Love Promise.
We're honored to receive the 2022 Subaru Love Promise Customer and Community Commitment Award. This award nationally recognizes elite Subaru retailers who provide an exceptional customer experience at every interaction with Subaru. These retailers have also demonstrated an outstanding commitment to supporting passions and causes in their local communities in important areas such as the environment, community, health, education, and pets.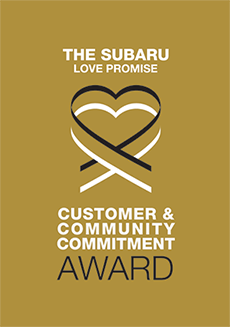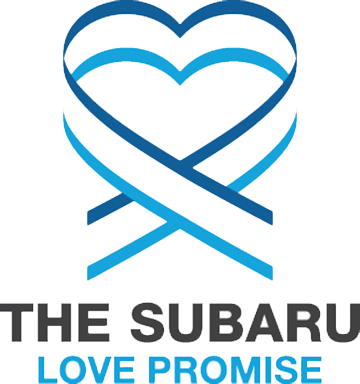 What is the Subaru Love Promise?
Subaru and our retailers believe in making the world a better place and the Subaru Love Promise is our vision of respecting all people. This is our commitment to show love and respect to our customers and to work to make a positive impact in the world.
How is Subaru of Baton Rouge dedicated locally to the Love Promise?
Our Love Promise can be seen in various partnerships with local charities and non-profits. We're grateful for the opportunity, not only to be a part of our community, but to serve it as well.
Capital Area Animal Welfare Society, Camp Bow Wow, Companion Animal Alliance
Cedarcrest Southmore Elementry , Woodlawn Middle School
Folds of Honor, Baton Rouge Parks and Recreation, Toys for Tots, St. Vincent de Paul Homeless Shelter
Our Lady of the Lake Children's Hospital, Womans Hospital , Mary Bird Perkins Cancer Center, McLindon Foundation, American Heart Association
Love Promise Stories from Subaru of Baton Rouge
Subaru and Subaru of Baton Rouge believe in making a positive impact on the communities in which we live and work. We uphold that belief through our Love Promise Community Commitment. Every month, we select inspiring stories from customers and partners from around our area who strive to support our collective commitment and feature them here
Saving My AC - Sarah B
I took my Subaru in to get serviced and was informed my AC condenser needed to be replaced. I was initially distraught because, as a graduate student, I did not have enough money to purchase the part and pay for the repair. But being in Louisiana just as summer was starting, I needed working AC. David Gaspard at Subaru Baton Rouge overheard my problem and offered to help me out. He agreed to purchase the replacement part which allowed me to only pay for the repair work. Thanks to him and the great krewe at Subaru Baton Rouge I now have super cold AC, just in time for the Louisiana summer heat!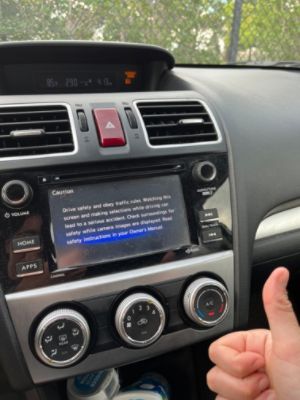 ---
A Great Buying Experience - John K
In a world where buying a new car is a challenge, Subaru of Baton Rouge made it much easier. My sales person, Kaitie, was knowledgeable, responsive and friendly. She kept me updated on expected delivery and answered my questions every step of the way. When I took delivery, she spent a lot of time showing me how everything (and I mean everything!) worked. In the back office, the financial person, AJ, was fast and efficient at doing the paperwork. He explained the details very clearly. I especially appreciate the following things that are all too common elsewhere. There were no hidden fees/services added later. There was no high pressure upsell for options or extras. If I said "no thanks", we moved on. There was no premium above MSRP (the only dealership I went to without one). I will recommend both the dealership and Kaitie to anyone looking to purchase a new vehicle.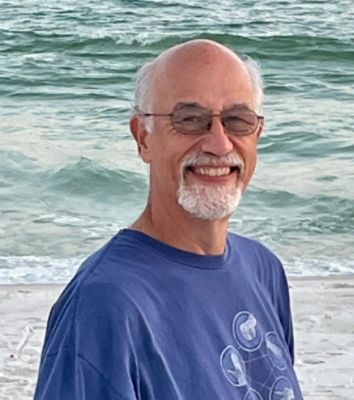 ---
Third Times a Charm - Evelyn Bootsie J
Dear Subaru of Baton Rouge, There is an old adage that "the third time is the charm," but in my case, this is my third Subaru, and all three have been a charm! This is however, the first time I have had a computerized digital dash board that tells me everything I need to know about my Crosstrek, it's mechanical workings, the weather the temperature travel information, and even if I have left something on my backseat! It even tells me how many miles I can go before I need to refill. Katie was so personable, friendly, and helpful, Matthew was so patient with all my questions, and Yvette Blanchard came to my house not once, but twice to teach me what all the icons on the dashboard meant and how to use them! She was so patient and more than willing to explain multiple times the various functions to make driving more pleasurable as well as safe! She even brought her drill and put in my new license plate! Now THAT is service with a smile! I don't expect to outlive my third Subaru but if I do, and wayyyy in the distant future need another I so hope Katie, Matthew, and Yvette haven't retired!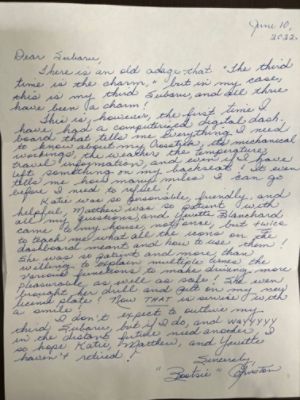 ---
Maiden Voyage Home - Anna T
Bryan and I can't exclaim enough about how very friendly, helpful and easy this process was over the weekend. We had lunch at Mason's… the friendliest staff we can remember in a restaurant. Amazing people, great food. I haven't seen Bryan happily leave a 25-30% tip in forever because of the service, and not just from the waitress we encountered but everyone. And I think a lot of this attitude was due to the genuinely friendly and helpful staff at Subaru. From Frank picking us up at the airport, you Clark, KJ and the gentleman repairing the cut on the steering wheel, all just an amazing experience. Thank you again!! We did make it home before midnight on Saturday, but We got a little off route on the way home. The following pictures show the adventures we had on our drive back to Dallas and how much the pups enjoy their bandanas and new car!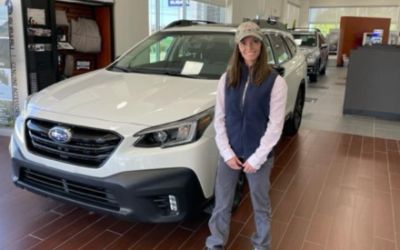 ---
CAAWS and Subaru of Baton Rouge - Libby H
Subaru of Baton Rouge has been a huge help to the Capital Area Animal Welfare Society in not only promoting our adoptable dogs each week, but attending our events and helping promote those as well. It was so great to have them come out to the CAAWS Mystic Krewe of Mutts parade this year after having a year off due to COVID. Subaru shows up, hands out swag to attendees, and does anything they can to help our organization. Subaru of Baton Rouge has been a delight to work with over the past few years!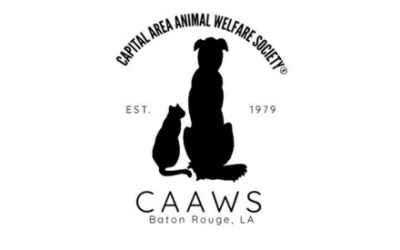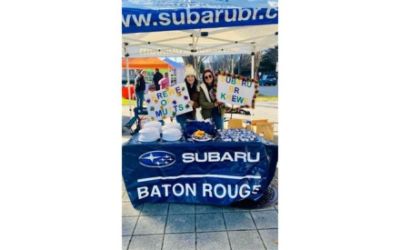 ---
Footprints Forever - Hannah G
Footprints Forever is an annual event held in Greater Baton Rouge, benefitting Maddie's Footprints. Maddie's Footprints is a local 501(c)(3) non-profit organization that provides emotional and financial support to families coping with the loss of a child to miscarriage, stillbirth, and infant loss. Our two annual events per year allow us to raise the funds necessary to continue deferring funeral costs for these families, but they also serve as a celebration for the children's lives. Footprints Forever, specifically, is nicknamed "a birthday party for the children who never got one" and is an extremely meaningful day for our families during their journey through grief. While sponsors are always appreciated, Subaru stood out to us as a sponsor due to the fact that their entire team showed up with bells and whistles on the day of. Every time we had to enter the Subaru Dealership, we were welcomed with smiles and reassurance of their employees for our event. It truly means the world to both us and our families to see large corporations, and the people who work for them, excited to help out with our mission. Thank you, Subaru, for allowing the opportunities for your employees to participate in events such as ours!
---
Giving Dogs a Second Chance - Beverly T
As a foster-based dog rescue, Second Chance Dog Rescue La relies heavily on the hospitality of local businesses like Subaru Baton Rouge to allow us the opportunity to present our adoptable pups to potential adopters at their locations. This is especially true since COVID restrictions have kept us from attending public gatherings for the past couple of years. Recently, we enjoyed the most exciting day at Subaru's Grand Re-Opening event which was a very well-attended, fun and festive occasion for all. That kind of energy brought a lot of positive attention to the dogs in our program and for the attendees as well. The entire staff at Subaru Baton Rouge was friendly, helpful, and made us feel like a welcomed part of the celebration. When potential adopters have the ability to meet our dogs in person---to hold them, to walk them, to play with them, a bonding experience begins so this was an invaluable experience. We had two of our sweet pups adopted at the Grand Re-Opening Event. One pup, Rhett, had been in our program for a full year but had not been seen at a public event until then. The other, Suzie, a sweet little Maltipoo, was adopted by a repeat adopter who, as a faithful Second Chance Dog Rescue follower, attended because she knew we were there. We are so grateful to Subaru for their community outreach and support of animal rescue. We look forward to working with them again and again! Let's just say we love Suba-roooooo!!!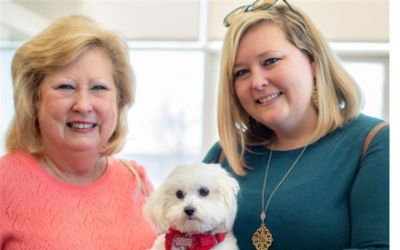 ---
Subaru Helped Kay Kay Find a Forever Home! - Emily J
Kay Kay arrived at Companion Animal Alliance (CAA) in October 2021 severely matted and unable to see. After a much needed haircut and lots of love, Kay Kay found her forever home and is living happily ever after! CAA is grateful to Subaru for generously supporting our shelter's adoption efforts during the month of October, and throughout the year as they continue to find helpful ways to back our mission of saving more animal lives!
---
Subaru really does LOVE PETS! - Jennifer P
Subaru has financially supported BREC's Trick n Treat, Art Unleashed for three years running and we are so thankful! With their help, this community event remains free to public and adds immense value to our four-legged community members. This event promotes and facilitates dog adoptions and nonprofit dog organizations and Baton Rouge just loves the dog costume contest. All this would not be possible without Subaru's support - they truly do love pets!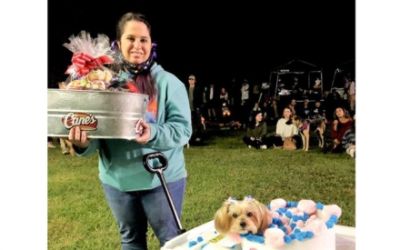 ---
Subaru Donates to Park Elementary 5th Grade! - Ebony B
Subaru of Baton Rouge donated $500 to our fifth graders at Park Elementary. With your donation, students will receive the necessary supplies needed to be successful. Students also created a class library wishlist. They are so excited to receive these books. Thank you Subaru!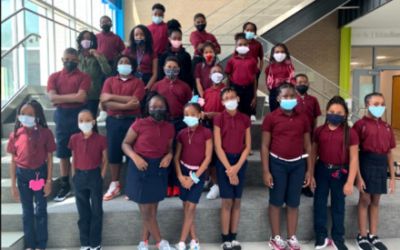 ---