The 2021 Subaru Love Promise Customer and Community Commitment Award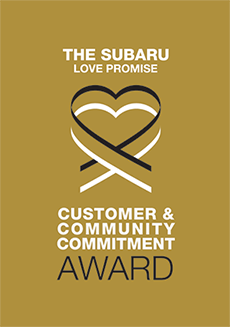 We've been nationally recognized for our dedication to our customers, our community, and the Subaru Love Promise.
We're honored to receive the 2021 Subaru Love Promise Customer and Community Commitment Award. This award nationally recognizes elite Subaru retailers who provide an exceptional customer experience at every interaction with Subaru. These retailers have also demonstrated an outstanding commitment to supporting passions and causes in their local communities in important areas such as the environment, community, health, education, and pets.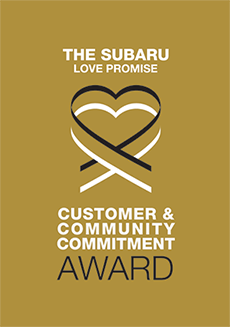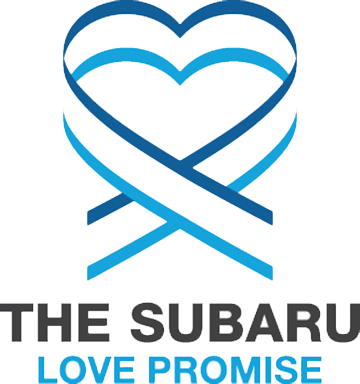 What is the Subaru Love Promise?
Subaru and our retailers believe in making the world a better place and the Subaru Love Promise is our vision of respecting all people. This is our commitment to show love and respect to our customers and to work to make a positive impact in the world.
How is Subaru of Baton Rouge dedicated locally to the Love Promise?
Our Love Promise can be seen in various partnerships with local charities and non-profits. We're grateful for the opportunity, not only to be a part of our community, but to serve it as well.
Capital Area Animal Welfare Society, Camp Bow Wow, Companion Animal Alliance
Cedarcrest Southmore Elementry , Woodlawn Middle School
Folds of Honor, Baton Rouge Parks and Recreation, Toys for Tots, St. Vincent de Paul Homeless Shelter
Our Lady of the Lake Children's Hospital, Womans Hospital , Mary Bird Perkins Cancer Center, McLindon Foundation, American Heart Association
Love Promise Stories from Subaru of Baton Rouge
Subaru and Subaru of Baton Rouge believe in making a positive impact on the communities in which we live and work. We uphold that belief through our Love Promise Community Commitment. Every month, we select inspiring stories from customers and partners from around our area who strive to support our collective commitment and feature them here
Prairie Dog Park - Monika A
Prairieville, La. – The Prairie Dogs, an Ascension Chamber Leadership Ascension team, are "working like dogs" to bring the Prairieville area its first ever dog park at Prairieville Park (38430 Highway 929, Prairieville, La. 70769). The development will be the first of its kind in the area and is slated for completion by Summer 2021. Ascension Chamber 2021 Leadership Ascension team, "The Prairie Dogs," have partnered with Ascension Parish to build Prairieville's first dog park at Prairieville Park. This two-acre lot would only be a dream if not for the generous donations from the community and surrounding businesses. All funds for the park were raised through a variety of resources, but it was the amazing community that ultimately stepped up to make this happen. Subaru of Baton Rouge reached out directly to sponsor the dog park through the business, making a donation of $1000 and offering to help in anyway possible. Opening day may still be undetermined, but we know that we can count on Subaru of Baton Rouge to be on site the day it does! They have made the commitment to be involved, had out dog toys, bring a car out to display, etc. Opening day of the park will be a day that will be remembered and we have Subaru to thank. Now if only they could bring those cute golden retrievers too! :)
---
Coming Together as ONE - Aja P
Subaru of Baton Rouge is one of BREC's Community Events supporters, always willing to contribute and help make a difference within our community. As 2020 hit everyone by surprise, learning to navigate through many challenges, changes and adapting to the "new normal" Subaru of Baton Rouge remained willing to assist. We were faced with the challenge of how to serve and engage with our community safely. With the support from community partners, organization, vendors we were fortunate to be able to spread joy, love, and family entertainment. BREC could always count on Subaru of Baton Rouge time after time again, Trick & Treat Art Unleashed Revamped, Full Moon Fete, Let it Sneaux, Gift Giveaway Park Hop. The power of joining together as ONE, BREC and Subaru. The overarching goal to spread love, by providing experiences and opportunities for the community during a time when it's needed most. Subaru of Baton Rouge is the true definition of "community" partner coming together as one. ONE COMMUNITY. ONE GOAL. ONE LOVE.
---
The Folds of Honor Foundation - Frank G
We started The Patriot Shootout at The University Club 9 years ago. Our Title Sponsor has been David & John Fabre with Subaru of Baton Rouge. We hold a pre-event party at The L'auberge Casino the night before the event and host both a Silent and Live Auction. To date in the 9 years of the event, we have raised over 1.7 million dollars for The Folds of Honor. Over the past several years, Subaru through the Share the Love Christmas promotion has helped me raise significant dollars for Folds of Honor! We look forward to many great years in our partnership with Subaru of Baton Rouge!
---
Companion Animal Alliance thanks Subaru!!! - Emily J
Subaru of Baton Rouge has been so generous to our animal shelter, CAA. From event sponsorships to adoption promotions and valentine's day celebrations, their team has helped keep our mission alive over the years. Their marketing team has always been such a pleasure to work with and we always look forward to their next great idea around promoting our animal welfare efforts. They truly represent a community-minded company and Baton Rouge is lucky to have them!
---
The Folds of Honor Foundation - FRANK G
With the help of Subaru of Baton Rouge's owners, David & John Fabre, 9 years ago, we started The Patriot Shootout to benefit Folds of Honor Foundation. We have raised over 1 1/2 million dollars for Louisiana military, spouses, and their children for educational scholarships. We have had tremendous support from the Baton Rouge community during this time. We host a pre-tournament party at L'auberge Casino on Sunday night and have well over 300 people attend. We have both a Silent and Live auction, Wine Pull, and Custom Golf Club raffle. The golf event takes place on Monday morning, and we have 15 of Baton Rouge's top restaurants on the course. We look forward to many more years of hosting this event! Frank Gumpert - Tournament Chair
---
Subaru Loves Outdoor Adventure! - Cody A
I think we can all agree what a great partner Subaru is to have in our corner! As a long time sponsor of BREC's Outdoor Adventure, they always provide us with plenty of swag for giveaways and raffles and attend and promote many of our events! At our most recent Great Family Campout event, they provided families with these awesome insect repellent bracelets. Plus, they supplied us with raffles giveways--a constellation blanket, yoga mat, and thermos.To be entered in the raffle, kids had to visit each activity station. The parents loved it because not only did it keep the kids active it encouraged them to try new things! Subaru doesn't forget about our furry, four-legged family members either. At our Pets and Paddle event in partnership with CAAWS, they donated the cutest bandannas and Frisbees for the pups. For our Sidewalks to Single Tracks program, they provided reusuable water bottles and drawstring backpacks for the kids. The list goes on! and From our team to yours, we appreciate it all and look forward to working future events together!
---
CAAWS Loves Subaru - Libby H
Ben Ledet and Kaci Melancon of Subaru of Baton Rouge always go above and beyond in supporting the Capital Area Animal Welfare Society, the first no-kill animal shelter in East Baton Rouge Parish (est. 1979). For the past few years, Subaru of BR has come to all of our major fundraisers (even the smaller ones), set up a tent, handed out swag, and brought a car to have on display. They also help us promote our fundraisers by promoting them on their own social media pages. Each Tuesday, they also post an adoptable CAAWS dog on their Facebook page, which we are so grateful for. We even had a dog adoption event at their dealership one year. Whenever we need swag to hand out, Kaci is sure to provide us with amazing Subaru giveaways, such as the Pet Adoption Kit, which comes with plenty of toys and items for people who have adopted their first pet from us. At our Krewe of Mutts Parade each year, they set up a photo booth and collect donations for us. Did we mention that they also bring TerraCycle boxes to our shelter, which we love, because we should all be about helping the environment! CAAWS loves Subaru and is so proud to have them as a community partner! Thank you, Subaru of Baton Rouge!!
---
Purina Sponsorship Package - Jesse W
Kaci Melanson and the rest of Subaru of Baton Rouge have went above and beyond to support Louisiana Warriors Unleashed which is a 501c3 NPO by becoming our 1st Purina Sponsors! That is our top sponsorship package that we offer! Subaru of Baton Rouge has made an effort to be at every event we had so far, to display the partnership we have and to promote Subaru's love of animals throughout the community. We want to thank Kaci and Subaru of Baton Rouge for always being there for us when we need them! On top of the events they attended and helped promote, they also assisted us in a Flood Drive. They offered us their location as a drop off point for donations of dog supplies that was going out to the Houston Area during their last flooding! Their community outreach program is second to none! They go above and beyond for their communities and others as you seen in this post. My name is Jesse Walls and I'm just grateful to be partnering with such a wonderful organization! On behave of everyone at Louisiana Warriors Unleashed, Paws Up!!!
---
Clear the Shelters - Ryan J
The Subaru of Baton Rouge team have been a huge part in making our Clear the Shelters event such a big success. Their support as a sponsor and their hard work in helping to spread the word lead to over 100 animals being adopted in just 1 day!
---
Subaru Donates to Cedarcrest-Southmoor Students - Kelly S
Subaru of Baton Rouge donated books to all of our fourth graders at Cedarcrest-Southmoor Elementary. This year our school's focus is on reading and writing. Students were so excited to each get a book and they will be able to take an AR test on the book and then write about the story. They are still talking about the books that Subaru gave to them! We are very grateful!
---
Subaru Loves to Care - Kacie F
On Thursday, June 28, 2018, I, Kacie Francois, had the pleasure and honor of representing the Leukemia and Lymphoma Society in presenting Lafayette General Hospital's infusion center with blankets sponsored by Subaru of Baton Rouge. Representatives from Subaru of Baton Rouge supplied eight boxes of beautiful plaid blankets to be handed out to patients in the infusion center. Also included was a box asking individuals to leave a message of hope for those battling cancer. As a former patient that has spent numerous hours in an infusion center I know the value of both a warm blanket and a message of hope. While we were not able to personally hand out the blankets to patients due to restrictions we are satisfied knowing the staff of Lafayette General appreciates the gift and will hand them to patients as needed. Thank you, Subaru, for including me in this great act of generosity and for standing behind your words…"Subaru Loves to Care".
---
The Patriot Shootout for Folds of Honor - Frank G
I helped start a golf event for The Folds of Honor Foundation along with a lot of help from John and David Fabre, owners of Subaru of Baton Rouge 7 years ago and our Title Sponsors for The Patriot Shootout. The Folds of Honor is a non-profit organization that provides educational scholarships for Louisiana children and spouses of military men and women disabled or killed while serving our great nation! To date, we have raised over 1 million dollars that translates into approximately 200 scholarships. The Subaru "Share the Love" program during the Christmas holidays has helped us a great deal. I just wanted to thank both David and John for their support for The Folds of Honor!
---
Subaru Supports CAAWS - Libby H
In the fall of 2017, Subaru of Baton Rouge contacted the Capital Area Animal Welfare Society asking how they could help our homeless cats and dogs. What started as Subaru posting pictures of our adoptable dogs on their Facebook page turned into a relationship where they attend all of our major fundraisers, help promote our events, and even donate to our organization. In January 2018, Subaru of Baton Rouge donated a percentage of their car sales to the CAAWS Heartworm Treatment Fund. This fund allows us to pull heartworm positive dogs from kill shelters, treat them, and get them adopted into loving homes. CAAWS is thankful to Ben Ledet and Kaci Melancon at Subaru of Baton Rouge for their generosity and truly caring hearts.
---
Subaru Loves To Care - Crystal S. - Crystal S
We are thankful to Subaru of Baton Rouge for choosing the Leukemia & Lymphoma Society (LLS) for the Subaru Loves to Care Campaign this year. We appreciate Caitlin O'Banion for her time to deliver blankets, care cards, art kits and bracelets, as well as visit with group at Our Lady of the Lake Children's Hospital. Hospital staff and blood cancer patients/families are grateful to Subaru of Baton Rouge for their care and support of all those impacted by blood cancer in Baton Rouge and surrounding areas. Hillary Christiansen, Light The Night Campaign Specialist and Darby Berthelot, Light The Night Campaign Director expressed their thanks to Caitlin and hospital staff and shared information about LLS, patient services, patient travel assistance and upcoming fundraising events.
---
2017 Dreams come true for terminally ill children - Michael M
Thank you Subaru for sponsoring Mike Montgomery in the 4th Annual Dreams come true for terminally ill children Crawfish boil. Mike came in 18th out of 38 teams and the days competitions raised $25,009. Having Subaru support such a worthy cause shows just how caring Subaru is for its community.
---
Subaru and NWF Love the Earth! - Eric S
We are excited about our new garden plants and elements. We are looking forward to staff and students from our summer program working in the garden and making observations of animals, bugs and plant growth.
---
The Great Car Caper - Melet K
What can I say? My first experience with Subaru of Baton Rouge started off with a bang. I decided to buy my mom a new car for Mother's Day/Birthday, and in her birthstone color. After finding the perfect automobile, I turned to see Missy (a saleswoman) walking up with the most welcoming smile. So,the plotting began. How do I get my mother's car without her noticing it? Missy agreed to ride with me to the house and snatch the car! As I snuck to the car port, Missy crouched down beside my car, beneath a crepe myrtle tree! Her plan was to run around to the back of the house, in case my mom came to the front door! I jumped in my mother's car and pulled up to the side of the house to retrieve Missy. Missy hopped in the car and we sped off like two gangsters! Mission accomplished! Ms. Jackson was very professional and accommodating. She was just as excited as I was to pull off the heist! Everyone was so kind. I truly enjoyed the experience. Missy was kind enough to follow me back to the "scene of the crime" and surprise my mom with her new Subaru Forester, complete with a red bow. I tricked my mom into coming outside, and the rest is history. Missy stayed and helped my mom get oriented to the car, and met my baby bird. The bird (a boy) then proceeded to flirt with Missy. After convincing him that she was married, Ms. Jackson laughed her way back to her car. It was freaking awesome! Thank you Subaru of Baton Rouge, and thank you Missy for everything! - Melet K.
---
Trick AND Treat Pawty - Jason H
BREC Dog Parks held its Howl-o-ween costume pawty on October 21st at the Raising Cane's Dog Park at Forest Park Community Park. When we found out that Subaru may be interested in participating, we immediately reached out. Unfortunately, this was about 2 weeks before the event date. Caitlin and Subaru, said "no problem" and were an AMAZING addition to the event. They were at the event participating by handing out treats for both the kids dressed in costume AND the four legged dogs competing in the contest. We look forward to growing our relationship and bringing even better events to the people of EBR. Thank you Subaru! Jason H.-BREC Extreme Sports/Dog Parks
---
Why Love IS what makes a Subaru, a Subaru - Paula W
My story begins back in SC where I bought my 2002 Outback from Prestige Subaru. I brought her home on Christmas Eve and was quite promptly told on the drive home that her name was Pearl. Yes, my girl Pearl and I went every where together and she became a wonderful geocaching companion!! As fate would have it, I wound up returning to Louisiana to live. One of my biggest concerns was where I was going to take Pearl. I finally called Subaru of BR for an oil change and had fun talking with Tracy in service. When Pearl and I got there, Aaron greeted us outside, held the door open for me to get out and to go in. I met Tab, he worked on Pearl, and Maria who is over parts. I truly felt I had found not just a great Subaru Dealer, but a new home. What I loved is that everyone always remembered Pearls name because I adore that car and had no plans of trading her in. But on Easter when we arrived home, a HUGE oak tree had fallen on top of her during a storm. I felt my heart had broken......and still do sometimes. There were power lines down and I couldn't get to my dear friend. I cried on and off all week. So, I called BR Subaru and spoke with Aaron. I went out there and we all looked at the pictures of Pearl. They were compassionate and supportive. I now drive a 2015 Outback that has more buttons than I know what to do with. If you have an older Subaru or a new one, let Subaru of BR become your new home. I'm glad I did because they have become like family :-).
---
sponsor - Tim B
I would like to thank Subaru of BR for sponsoring me in the Jambalaya Festival cooking contest in Gonzales, LA this past weekend. It shows their support in past traditions. The traditions of the Festival are being kept alive by businesses like Subaru of BR showing their support of their customers and potential customers. Thanks again for sponsoring me and for keeping traditions alive.
---
Pets and Santa Paws - Paula U
Subaru of Baton Rouge partnered with Friends of the Animals Baton Rouge and Santa Claus for a pet adoption on Saturday, December 6th. Santa was on hand with Mrs. Claus to take pictures with puppies and children and to make sure all our Subaru drivers were on the nice list!
---
Subaru of Baton Rouge Hosts "Pictures with Santa Paws" Event - Paula S
Last Saturday, Subaru of Baton Rouge partnered up with its local chapter of Friends of the Animals to host our annual "Pictures with Santa Paws" Event. Santa took pictures with all of his Subaru family, and one of our dealers even got to adopt a puppy of his own! Thanks so much to everyone who came out, and we can't wait to see you all next year!
---